There are certain things in my life that I have been waiting for with varying amounts of patience. I have been waiting a long time to be married and there were things I set up in my mind as things I would wait to do until that time. Unfortunately, now it just feels like my entire life is on hold and I'm hanging in a closet waiting to get started.
It's tough coming from a community of marrying young and arranging marriage, but living in a society that believes in late marriage and dating for years. I haven't adjusted very well, but that isn't the point.
The point is, I decided to do something that I had not planned to do until I was at least engaged.
In Hindu culture, there are five signs of a married woman (well, approximately, anyway, this can vary by region and community, of course!). In America the wedding ring is gaining popularity in Indian weddings, especially because it is the only sign of a married person recognized in America, but it is not part of the original Indian system.
So, for the western culture, a ring on the third finger of the left hand is the only sign of a married person. Here are the Hindu signs (as far as I understand it, anyway)
1) Mangalsutra necklace. This is sometimes also called a thali, I believe in South India. There are slight differences. A thali is usually a gold necklace with a gold pendent. A mangalsutra is usually black beads also with a pendant.
2) Kumkum in part of hair. Kumkum, or sindoor, is a red powder. During a wedding ceremony, a groom will put it in the part of his new wife's hair. Traditionally, she would do this herself daily. I heard some story that way back in ancient times it was originally the groom's blood!
Here is a picture of the lovely Bollywood actress, Aishwarya Rai (now Bachchan) at her wedding and you can see the red in her hair and the necklace: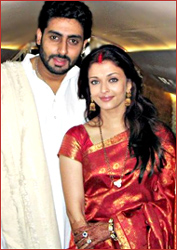 3) Silver toe rings on the second toes of both feet.
4) Round, red bindi.
5) Nose piercing
The first three (as far as I know) always mean marriage, but the last two depend. In some parts of India they mean marriage, in some parts they mean you're just more traditional. I've had some people tell me that bindis have nothing whatsoever to do with marriage and other people tell me that a red one is specifically making the point of being married.
So to avoid confusion, I have been wearing a black bindi. When I get married, I will switch to a red one, most likely (though I think black would probably look better on my skin, so I'll have to see).
From what I've read, it is common for girls in India to get their nose pierced when they are engaged or reach marriageable age. The reasoning I've heard most is that Ayurvedic medicine (traditional Indian medicine, there's another post I need to write!) believes that making the hole in a particular spot eases the pain in childbirth.
The nose ring is something that is utterly different in interpretation between America and India.
Here in America, a nose piercing is something that a young person gets to be rebellious and different and to upset his or her parents. In India, it's an ancient tradition that is well respected and they create nose rings that are much more beautiful and elaborate than anything you would get in the U.S.
So in one place it means modern and in the other it means old-fashioned! Isn't it funny how that happens?
I have wanted a nose piercing for many years. I thought they were beautiful from the time I was a teenager and the farther into Indian culture I get, the more I want one. I had a previous boyfriend who hated them and said they look like boogers stuck on your nose. Yuk. So that opinion prevented me for a long time. Then I thought maybe I would get one as a celebration of getting engaged.
But ten years after my first prospective/possible marriage, I'm still not engaged and I've decided that I don't need to find something special to celebrate to do this, so I just went for it.
Today, I got my nose pierced.